Speciality Brands announces partnership with hospitality charity Only A Pavement Away
Drinks agency Speciality Brands has announced that it is partnering with charity Only a Pavement Away which supports people facing homelessness, prison leavers and veterans into careers within the hospitality industry.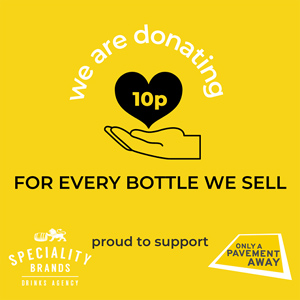 Set up in 2018, Only A Pavement Away has already placed 220 members into work and is looking to help and support over 1,000 people by 2027. Speciality Brands' initiative includes a donation to the value of 10p per bottle sold to its customers in 2021/2022. This funding has allowed Only A Pavement Away to create a vital new role, within the team appointing Will Andrews as Employment Coach. His main objective will be to support new members into their employment journey. "We're thrilled to be welcoming Speciality Brands as one of our key supporters. Their donation has made a huge difference to us and enabled us to recruit a much-needed permanent member of the team", said Greg Mangham, CEO & Founder of Only A Pavement Away.

"The Employment Coach's role will be crucial in ensuring our members get the appropriate support to sustainable employment. The support from Speciality Brands not only in funding our new Employment Coach but in promoting the brand is so powerful in helping us help more of our members into work. A great example of how we see future strategic partnerships working. Massive thanks to the team at Speciality Brands". Additionally, members of the Speciality Brands team are also acting as ambassadors by raising awareness with their customer base and volunteering in activities set up by the charity to further raise funds. This month, ten members of the team will take part in the charity's summer Fill a Flask campaign which aims to distribute re-usable thermal flasks, to people forced to sleep on the street. The distribution is specifically targeted for the beginning of summer, a time when many rough sleepers need a cold drink. Chris Seale, Speciality Brands' MD, added: "Only A Pavement Away's mission has resonated immensely with us and we're really proud that our involvement has already made a difference and will help getting vulnerable people into hospitality jobs. Only A Pavement Away is also part of the solution to industry's current staff shortage challenge. We want to thank all our customers who have made our partnership possible, and we encourage them to check out their story and get involved".