Two new top flight football sponsorship deals announced

Two major deals have been unveiled by leading English football organisations. Dettol has been announced as the Official Hygiene Partner of England's Men's and Women's Senior Football Teams, Wembley Stadium connected by EE, the wider grassroots game and St George's Park. As part of the deal, over 17,000 grassroots clubs and 1.4 million players who participate in affiliated football will be given access to educational materials and a wide range of Dettol's hygiene products.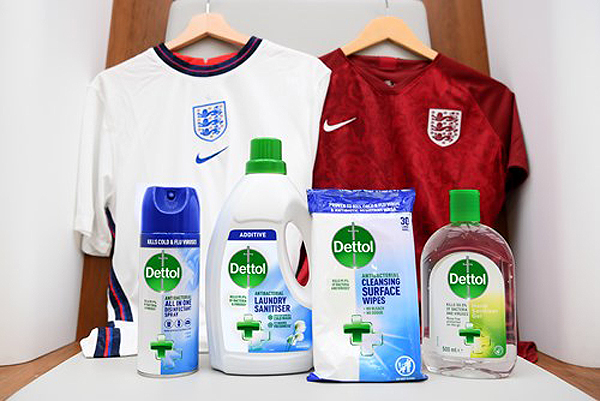 Similar hygiene practices will also be introduced to The FA's training facility in St. George's Park, to support hygiene measures for the nation's male and female elite footballers. Dettol will also work with The FA to provide enhanced hygiene guidance. Dettol's football campaign will kick off ahead of the Three Lions' first international fixture of 2021 against San Marino on the 25th March at Wembley Stadium connected by EE. The grassroots campaign will start when clubs in England return to playing matches.
Meanwhile, Tottenham Hotspur, recently named the English Premier League's greenest club following a study carried out by BBC Sport and the UN-backed Sport Positive Summit, has announced VivoPower International PLC as its Official Battery Technology Partner until the end of the 2021/22 season. VivoPower will now undertake a review of Tottenham Hotspur's stadium and training centre to explore future solutions that could help the club accelerate towards becoming a net zero carbon business. It is envisaged VivoPower will supply a large, solid state battery with capacity of more than 3 MW at the stadium to balance and guarantee the venue's power supply. A full-suite sustainable energy solution – including rooftop solar panels, battery storage, custom microgrid controls and electrical infrastructure – will also be designed for the club's training centre. The club is a signatory of the UN Sports for Climate Action Framework, demonstrating its commitment to playing its part to ensure the sports sector is on the path to a low-carbon future, in line with the aims of the Paris Agreement. Last year, Tottenham Hotspur also became a founding partner of Count Us In, a global movement aiming to mobilise 1 billion people in the fight against climate change. Donna-Maria Cullen, Executive Director, Tottenham Hotspur, said: "We are committed to minimising the environmental impacts of our activities across all operations in addition to using our global reach and appeal to raise awareness of the issue of climate change.
"Science points towards an urgent need for businesses to decarbonise and the club is always open to new technologies and innovations to help achieve this core aim. "It is the first partnership of its kind within the world of football and shows club's intent to reduce its carbon emissions. The work of companies like VivoPower with businesses like ours could be seen in years to come as an essential part of limiting the impacts of climate change." Kevin Chin, Executive Chairman and CEO of VivoPower, said: "We are delighted to be working with Tottenham Hotspur on what would be our first full suite SES deal, our first deal involving infrastructure assets and our first SES deal in the UK. Tottenham not only has a fantastic history and heritage as one of the world's pre-eminent football clubs, but also tops the Sport Positive Rankings as the English Premier League's most sustainable club. "As VivoPower is a certified B Corporation, we have to be sure that our partners share our goals and ethos. Given Tottenham's excellent sustainability credentials, we know we're partnering with a sports business that shares our values and vision. "Our deal encompasses all aspects of our sustainable energy solutions which are available to all corporates looking to decarbonise far more rapidly than their competitors. We hope to assist Tottenham by delivering a turnkey SES outcome that enables the club to accelerate towards net zero carbon status". Tottenham Hotspur is already offsetting its carbon footprint in a myriad of different ways – to date, the club has planted thousands of new and semi-mature trees and tens of thousands of new plants, hedges and flowers across its training centre to establish an ecological habitat. VivoPower has also acquired marketing rights as the club's Official Battery Technology Partner for cash consideration, with brand visibility on digital signage at Tottenham Hotspur home matches and regular content on the club's popular social media channels to amplify VivoPower's purpose and presence to a global audience.