28th May, 2010
Sponsorship to be fastest-growing sector as global sports market recovers: PwC
In the face of tough opposition from the 2008–2009 economic downturn, the global sports market is now seeing a robust recovery, according to a PricewaterhouseCoopers LLP (PwC) report (Back on Track – the Outlook for the global sports market).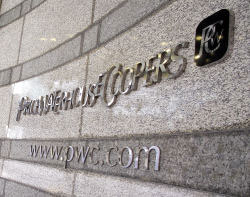 The report estimates that global sports spending will rise from US$114bn in 2009 to US$133bn in 2013, representing a compound annual growth rate of 3.8 per cent over the four years - boosted particularly by the FIFA World Cup and the Olympics. Growth is predicted across all territories from the larger and more mature markets of North America (3.6 per cent), and Europe, Middle East and Africa (4.1 per cent), to the smaller markets of Asia Pacific (3.9 per cent), and Latin America (4.3 per cent) over the four years.

Insulate

Julie Clark, UK head of sport, PricewaterhouseCoopers LLP, said: "Stripping out the effects of major one-off events, an underlying trend of steadily rising spending is emerging. Long term contracts will to some degree insulate media rights from the downturn, and as a result media is the only category where spending for ongoing events increased in 2009. However, weak conditions in the advertising market have been limiting renewal increases since then". Total gate revenues will expand from US$43.2bn in 2009 to US$49bn in 2013 and remain the largest component of the market. However income from gate revenues varies greatly from country to country often reflecting factors such as local economy and peoples' disposable income. Attending live sports is an integral part of certain cultures but in the emerging market tickets are less often affordable. Ms Clark explained: "Recessionary conditions have driven some innovations: in the US, for example, a number of sports teams are using dynamic ticket pricing, similar to the yield management models used by airlines and hotels".

Priorities

Sponsorship will be the fastest-growing component ($29.4 billion in 2009 to $35.2 billion in 2013) and despite the economic downturn the largest sports brands with global reach and pulling-power have continued to attract the massive sponsorship deals. But the mid-level brands or smaller sports brands targeting a local market, have been hit badly and, unsurprisingly, some of those businesses (such as banks) that were actively investing in sponsorship deals during 2009 shifted their spending priorities elsewhere. Another industry investing increasing amounts in sponsorship is online sports betting where football shirt sponsorships is a key focus. Broadcast media rights revenues will experience growth from US$23.1bn in 2009 to US$26.7bn four years later. However, the one overarching challenge for all players in the media rights market is how to protect and monetise rights in a multi-platform world of pervasive (and often freely-available) digital content, an issue both the music and film industries have grappled with. Ms Clark concluded: "Sport companies, businesses and the way the marketplace operates confirm that it is now a truly global industry where technology has contributed to the globalisation of both the industry and specific sports. "However, great sports have deep and enduring local roots which in turn help to shape their global commercial potential and reach. To win in the 21st century sports environment it's vital to think globally and act locally."

27th May, 2010
Howzat! NatWest to sponsor cricket on Five NatWest has announced a comprehensive partnership with Five to sponsor the broadcaster's 2010 summer of cricket, which begins tonight (27th May).

The long-standing ECB sponsor of the One Day Internationals series becomes the broadcast sponsor of Five's nightly TV highlights package, Cricket on Five. The partnership also encompasses a bespoke online sponsorship package. The deal was announced at a lunch for media buyers hosted by Five's Sales Director, Kelly Williams, at which it was also revealed that former England captain Michael Vaughan is to join Five's cricket commentary team.

Debut

At the same time Mr. Williams lifted the lid on new research which shows that the 45 x 45-minute nightly highlights programme has a greater reach than an entire year's worth of output on the main Sky Sports channels. Last year's Cricket on Five, which culminated in England's Ashes victory, reached 28.5% of all individuals, a total of 16.2 million UK viewers. By contrast, Sky Sports 1, 2, 3 and 4 combined had an annual reach of 26% across the whole of 2009, according to Five. The new Cricket on Five sponsorship credits will debut on 22nd June, to coincide with the first match in the NatWest Series of One Day Internationals between England, Australia and Bangladesh. They were created for NatWest by M&C Saatchi. The deal, brokered between Rachael Wheeler, Five's Sponsorship Controller, and Simon Broderick at Mediacom Holdings Limited, will see sponsorship accreditation including opening and closing titles, 10 second bumpers and a logo featured on all on-air promotions for the cricket highlight programmes.

Highlights

Five's catch-up TV service, Demand Five, and FiveFWD, a male-skewing cars and gadgets portal, will carry display inventory as well as pre-roll and mid-roll credits. Five's summer of cricket continues until the end of September, with Geoffrey Boycott, Simon Hughes and presenter Mark Nicholas joining Michael Vaughan in the commentary box. The nightly highlights programme features the best from each day's play in the nPower Tests against Pakistan and Bangladesh, the NatWest Series ODIs and a series of Twenty20 internationals featuring England, Pakistan and Australia. Cricket on Five is a Sunset+Vine Production for Channel 5 Broadcasting Ltd.

27th May, 2010
Rileys becomes new sponsor of PDC's UK Open Rileys, the pool and snooker operator, is the new main sponsor of the Professional Darts Corporation's UK Open.
This year's event - now officially called the Rileys Darts Zones UK Open - will take place at the Reebok Stadium, home of Bolton Wanderers Football Club, from Thursday, June 3rd to Sunday, June 6th. The tournament's prize fund is £200,000, with £40,000 to the winner. All sessions will be screened live on Sky Sports in High Definition.

Perfect

Rileys Chief Executive Maurice Kelly said:" Rileys are proud to become the official main sponsor of such a great tournament. "We're committed to investing in darts at grass roots and the professional level. The Rileys Darts Zones UK Open sponsorship gives us the perfect opportunity to do both". PDC Chairman Barry Hearn put the new deal into context: "We're delighted that Rileys are to sponsor the Rileys Darts Zones UK Open. "They have already become a valued partner of the PDC. Their successful staging of the Amateur Qualifiers for the UK Open in their Rileys Darts Zones shows what a great innovation they are for grass roots darts players.

Memorable

"We look forward to working with them at the Rileys Darts Zones UK Open for what will be a memorable tournament". The Rileys Darts Zones UK Open is affectionately known as the 'FA Cup of Darts'. The free draw format puts thirty-two Rileys qualifiers and ten BDO County qualifiers up against the top ninety-six PDC professionals, with play being held on eight stages simultaneously at the Reebok Stadium. The Rileys qualifiers came through nationwide heats played in Darts Zones at Rileys clubs.

26th May, 2010
Business Environment's Elephant stops for a rest in Bow Churchyard Business Environment has teamed up with Elephant Family, the only charity solely dedicated to ensuring the survival of the Asian elephant, to launch London's biggest ever public art event, which is currently seeing the capital taken over by elephants. Business Environment has sponsored an elephant called Midnight Indigo, who has been on display in Bow Churchyard on Cheapside in the heart of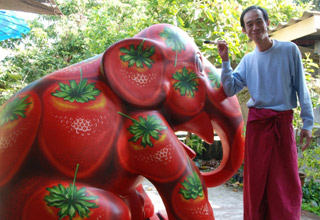 the City since 3rd May and will stay there until 23rd June. Midnight Indigo, who has been hand-painted by the artist Cornelia O'Donovan, joined a further 249 life-size elephants in central London landmark locations. David Saul, Managing Director at Business Environment, commented: "Our sponsorship initiative is part of Business Environment's values regarding protecting the environment and communities. By helping to sponsor London's Elephant Parade, we are delighted to support this wonderfully creative project that aims to raise awareness of the Asian elephant's plight. In addition, the incredible artwork has added life and vibrancy to the City".

Habitat

Business Environment is the leading owner and provider of flexible serviced offices in Southern England. It owns and operates up to 1,000,000 square feet of property and caters for small to large companies who require competitive and flexible office accommodation. Working with the Wildlife Trust of India, funds raised by the Elephant Parade will be used to buy and manage vital wildlife habitat across Asia, giving Asian elephants, and the species and people that share the land, a safer and more sustainable future. Elephant Family will also invest funds in community education projects across Asia, highlighting the commercial, cultural and ecological significance of Asian elephants, to instigate a positive shift in local attitudes towards elephants. Sotheby's will auction the elephants at an event on 30th June, which aims to raise more than £1 million, benefiting more than fifteen UK conservation charities working in Asia.

For more information about Elephant Family, click here.

25th May, 2010
BT announces long term commitment to Paralympic sport in the UK BT has announced its long term commitment to Paralympic sport in the UK. The move is aimed at "helping secure a lasting legacy for the country's Paralympic athletes through the London 2012 Paralympic Games and beyond", says the company. BT will continue to support the British Paralympic Association (BPA) after the London 2012 Paralympic Games, for the period 1st January, 2013 until 31st December, 2016, supporting ParalympicsGB athletes as they compete in Sochi in 2014 and Rio de Janeiro in 2016.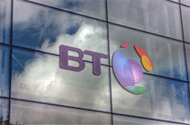 As part of the agreement, BT is working with the British athletes to create communications services to enhance and support their training and team interaction. As part of this collaboration, BT has the highest level of sponsorship rights and benefits, including association with the ParalympicsGB team, tickets and hospitality rights at the Paralympic Games of 2014 and 2016 and at other official Paralympic events and extensive branding and recognition across BPA marketing materials.

Connected

BT is a long term supporter of the BPA and was the association's first commercial partner when it was founded in 1989. BT is the Official Communications Services Partner to the London 2012 Olympic and Paralympic Games. BT is also title sponsor of the BT Paralympic World Cup, the largest annual international multi-sport competition in elite disability sport. The event is taking place in Manchester from 25th-31st May, 2010, and features BT Ambassadors Oscar Pistorius and Liz Johnson. Suzi Williams, BT Group Marketing Director, said: "We are already two years into our journey with our friends at ParalympicsGB, and are working to ensure they are the most connected Paralympic team in the world. It's a partnership that is going from strength to strength already. That's why BT is very proud today to be increasing our commitment and becoming a partner of ParalympicsGB all the way to Rio in 2016. We are all firmly focused on making the London 2012 Paralympic Games the best they can be, and seeing the GB team make Britain proud". Phil Lane, chief executive of the British Paralympic Association, said: "BT had the vision to support us twenty years ago, when Paralympic sport was still in its infancy. We're delighted that they now have the vision to support us past 2012, showing that they see the value in our partnership beyond the attraction of a home Games. With their support, both financial and technical, we will be able to ensure that British athletes are best prepared for London, Sochi and Rio." Seb Coe, Chair of the London Organising Committee of the Olympic Games and Paralympic Games said: "I am delighted that BT is extending its commitment to Paralympic sport here in the UK – they are providing a great legacy for the Paralympic movement. "We want to inspire young people to choose sport and learn about the Paralympic values. BT will help us insure that this inspiration doesn't stop in 2012 but continues long after".

24th May, 2010
Coca-Cola Great Britain announces new football partnerships Coca-Cola Great Britain (CCGB) has announced two new three-year partnerships with The Football League and The Scottish Premier League (SPL) from the start of the 2010/11 season that will see the brand become Official Partner of The Football League and Official Partner of the Scottish Premier League. CCGB has been involved with The Football League since 2004 and has created high profile promotional campaigns such as Win a Player and Club Colours aimed at raising awareness of its involvement with football at League level and engaging and generating excitement amongst football fans. In Scotland, CCGB's long standing involvement with club football will continue, now enhanced through a new official partnership with The SPL.

Strengthen

The new partnerships will include advertising and deliver access to key assets such as merchandise and club experiences, says the company. These will be used to support CCGB's focus on building its online engagement in a series of initiatives that will help fans communicate digitally with their clubs and the wider football league communities, adding value to their experience. Further details will be announced at start of the 2010/11 season.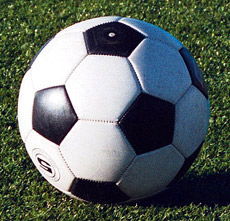 Sanjay Guha, Coca-Cola Great Britain and Ireland President commented: "The Football League and Scottish Premier League provide a fantastic platform for us to really connect with communities across GB. We're very excited to be making these new commitments that will allow us to strengthen our relationships with fans who are passionate about their clubs across the country". Football League Commercial Director, Stewart Thomson, was equally upbeat: "During six years as our title sponsor, Coca-Cola have made an exceptional contribution to our competition. We are delighted that they have committed to continuing that successful relationship by becoming an Official Partner of The Football League". Neil Doncaster, Chief Executive, SPL added: "I am delighted that the SPL will be working with such an iconic brand. We look forward to developing this partnership over the next three years to promote the SPL up and down the country". Coca-Cola Great Britain continues to invest in the game at all levels and is one of football's biggest supporters on both a domestic and international level. Current sponsorships include Wayne Rooney, the FIFA World CupTM and the UEFA European Championships.

20th May, 2010
O2 and Gorillaz team up in tour collaboration O2 and Gorillaz are joining forces in a collaboration to support Gorillaz forthcoming Escape to the Plastic Beach tour, which includes shows at The O2 on September 14th and 15th.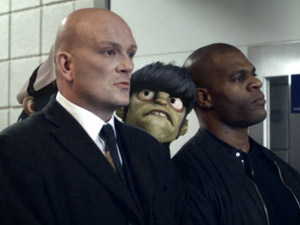 The tie-up will see a significant joint through-the-line campaign to promote the tour and let O2 customers know they can get priority tickets to the shows. The campaign will incorporate TV advertising, digital, media partnerships and the latest technology, including augmented reality. In what O2 refer to as a unique collaboration, Gorillaz's Jamie Hewlett has created a special version of O2's The Walk ad, which has previously followed artists from Tom Jones to Jon Bon Jovi on their walk from dressing room to stage. The Gorillaz version of the ad includes both virtual characters and real life members of the band and first aired on Friday, 14th May.

Takeovers

In a first for O2, an augmented reality app has been created for the campaign. The iPhone app will play special animations bringing a virtual Gorillaz world to life when customers take a photo of an augmented reality codes which will be printed on various media throughout the campaign. The application also gives customers access to a Gorillaz newsfeed, tour tickets and tracks via iTunes. The application will be updated with new content throughout the campaign including a GPS tracking map that will enable users to track Murdoc across the globe. Other aspects of the campaign include media partnerships with NME, Xfm and The Sun. Digital marketing activities will see home page takeovers of Yahoo and Spotify and special ads will be embedded into Shazam's iPhone app. "This arrangement goes far beyond standard activity between brand and artist", said Sally Cowdry, UK Marketing Director at O2. "It's a pioneering collaboration through which we will innovatively demonstrate the benefits of our Priority tickets and promote the UK tour. We look forward to working with more artists in this way".

Animation

Chris Morrison of CMO Management International Ltd, said: "O2 and Gorillaz have worked together as much as a coalition as collaboration. Ideas and agendas were merged into a common action utilising the unique creative geniuses of Gorillaz and the cutting edge marketing of O2, from which both parties benefit immensely". The Gorillaz tour begins at Birmingham's NIA on Friday 10th, before hitting Newcastle on the 11th and Manchester on the 12th, culminating in two shows at The O2 on the 14th and 15th September. With songs from all three albums (Gorillaz, Demon Days and Plastic Beach), the arena tour will include video animation, artwork and film as designed by Jamie Hewlett. The campaign was developed by VCCP, Drum, pd3 and Indie Mobile, with media buying by Zenith Optimedia, online creative by Agency Republic and below the line communications by AIS.

17th May, 2010
Channel 4's Countdown counts on Vitabiotics in new sponsorship deal Vitabiotics, the UK's leading and fastest growing major nutraceutical company, has agreed a twelve month sponsorship deal with Channel 4's iconic game show, Countdown.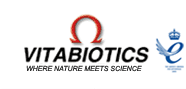 From today, Vitabiotics will become the official Countdown sponsor in a six-figure deal which marks Vitabiotics' first major entry into television in its thirty-nine year history. The sponsorship will entail a number of the company's best-selling products featuring in rotation over a twelve-month period. The partnership will see Vitabiotics' sponsorship credits appearing before, during and after the programme, and includes sponsorship of Countdown on 4oD and logo branding on C4.com. Robert Taylor, Vice President, Vitabiotics, commented: "Countdown was chosen as it mirrors Vitabiotics' key credentials as a well-established, trusted and intelligent brand loved by consumers and widely recognised within British culture. The sponsorship deal will boost Vitabiotics' already strong brand presence and will increase awareness of some of our fastest growing brands in the UK, including Wellman, Wellwoman, Perfectil and Pregnacare.

Honoured

The creative, written and produced by The Outfit, aims to make the sponsoring brand the logo star with a 'clever thinking' link to the show". Countdown, which broadcasts daily on Channel 4, is a show in which two contestants engage in a battle of wits, competing against the clock in games of lexical dexterity and numerical agility. It is the longest running daytime quiz show and was honoured in July 2004 with a House of Commons reception in recognition of the series' contribution to promoting literacy and numeracy. Vitabiotics is the UK's second largest supplier of supplements to UK retail, including Boots, Superdrug, Tesco and Holland & Barrett. Today's announcement also builds on the recent launch of a range of new products within the Vitabiotics portfolio, including Ultra-D3, Menopace Night and Osteocare Joint. All of Vitabiotics' formulations are based on solid scientific research, supported by thousands of peer-reviewed research papers, proven in clinical trials and manufactured under pharmaceutical quality control.

13th May, 2010
Garmin® to become main sponsor of Saracens Rugby Football Club Garmin®, global leader in personal satellite navigation*, has announced that it will become the main sponsor of Saracens Rugby Football Club from next season.
Saracens Chairman Nigel Wray said: "Saracens has enjoyed a hugely successful season on and off the field. We have never been out of the top three in the Premiership and, by successfully hosting four matches at Wembley, we have taken club rugby to a new level. "This new partnership with Garmin will sustain our progress. They're an ambitious quality brand and we look forward to developing a successful association with a company who share our enthusiasm for innovation and our appetite to discover ways to adapt and improve our respective game or products". Garmin's Clive Taylor, Director of Products and Marketing, said: "We have looked at a number of sports over the last year and firmly believe the developments we have seen on and off the pitch at Saracens match our own ambitions for continual innovation across our product sectors. We believe we can further help Saracens and the growing game of rugby by introducing the sport to our extensive customer base; in return, Saracens can help position our products in front of a whole new audience".

Integrated

"Garmin's sponsorship of a top flight football club has taught us to really focus on adding value to many aspects of a professional sporting club, and we look forward to supporting Saracens team, community and business links over next season and beyond". Garmin's product ranges cover automotive in-car sat navs, mobile smart phones with integrated navigation, marine communications and navigation, aviation navigation products and sports and recreation products covering a variety of sectors from fitness watches and cycling computers to outdoor OS mapping handhelds and dog tracking devices. To celebrate the sponsorship of Saracens, Garmin will be giving fifty Saracens and Garmin fans the chance to win a pair of tickets to the first game of next season. Further details will be announced in July 2010. * source: Canalys

12th May, 2010
Eurostar to be Tier Three sponsor of London 2012 The London Organising Committee of the Olympic Games and Paralympic Games (LOCOG) has announced today that Eurostar has become a tier three sponsor of London 2012, the thirtieth domestic sponsor. The high-speed rail company has become Official International Rail Services Provider and will be providing London 2012 with arrival and departure services at St Pancras International for those competing and working at the Games who are travelling to London on its trains. It will also provide international rail services for London 2012's operational requirements. (Outside of its sponsorship with LOCOG, Eurostar will of course be carrying many spectators from mainland Europe to and from the Games in 2012 itself). The cross-Channel rail operator has also acquired rights in France and Belgium and become a partner of the French and Belgian National Olympic Committees. As part of these deals, the French and Belgian Olympic teams will travel to and from the Games using Eurostar services. As part of its sponsorship of the London 2012 Games, Eurostar will be conducting a number of activations across the UK, France and Belgium to promote London 2012 as a truly sustainable Games.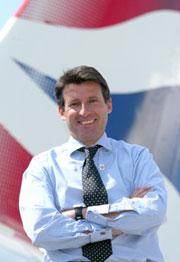 The first main Eurostar activation is the Tri-City-Athlon planned for 14th September, 2010, which takes place across the three capital cities that Eurostar serves. Over one day participants will do a swim in Paris, a cycle in Brussels and a run in London.

Sustainable

LOCOG Chair Sebastian Coe commented: "We are thrilled that Eurostar has come onboard as a London 2012 partner. They are an iconic brand with a strong emphasis on quality and I know they will ensure that everyone coming to London 2012 by rail, either as a competitor or spectator, has the best travel experience possible from the moment they start their journey". Nicolas Petrovic, Chief Executive of Eurostar, said: "We are proud to be partners with London 2012 and believe we will play a critical role in bringing people from all over Europe. As the high speed rail link between the UK and the continent we will be bringing over a million people to and from the UK during the Games and will help make London 2012 the most sustainable Games possible. "The Tri-City-Athlon which will take place in Paris, Brussels and London will be a record-breaking way of demonstrating the proximity of the continental capitals we serve and reinforcing the closeness of the UK to Europe. It will be a great challenge for the participants and will be a key milestone in the run-up to 2012".

9th May, 2010
Motherwell confirm four year partnership with Puma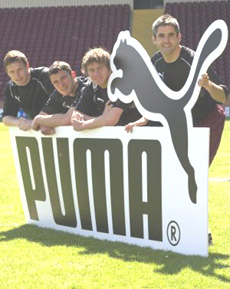 Motherwell Football Club have announced a new four year sponsorship deal with sportswear giants PUMA. The firm will provide bespoke replica strips as well as training and leisurewear from next season with Motherwell the latest SPL club to join the brand operated in the UK by Genesis Sport. The launch of the Motherwell FC PUMA 2010/2011 Home and Away Kit sees the club join the portfolio of PUMA contracted clubs including Newcastle United, Burnley, Sheffield Wednesday, Cardiff City, Reading, Bristol City, Coventry City, Hibernian, Bath Rugby Union and England Rugby League. Commenting on the exciting new deal, Alan Provan, head of PSL who operate both the Motherwell Club Shop and Motherwell Direct, said: "We are delighted to have secured this deal and are confident it will further enhance the fine reputation of the club.

World-renowned

"Obviously, this time last year, we were all excited by the arrival of Canterbury but the well documented issues faced in the current economic climate means they are scaling down their football operation. "As such, we were forced to seek an alternative and we are delighted that we've managed to attract yet another world-renowned brand synonymous with quality and expertise. "We are very impressed with the quality of playing and training kit from Puma and we are very pleased to have secured a four year deal with such a major player in the football market".

Quality

Genesis, who are PUMA's Licensee for Pro Teamsports for the UK and Ireland were equally pleased to add Motherwell to their portfolio. Russell Thomas, Head of Sports Sponsorship with GenesisSports.co.uk, said: "We're delighted to announce the deal with Motherwell Football Club. We've been working hard behind the scenes with PUMA and the Club to produce a great quality Kit and Trainingwear range that supporters can be proud of". Roger Harrison, Head of Marketing with PUMA added: "We are looking forward to be embarking upon a new Technical Kit partnership with Motherwell FC. This will give PUMA great exposure throughout Scotland and with great kit and good service we will be an excellent partner for the club".

5th May, 2010
Sainsbury's becomes official sponsor of London 2012 Paralympic Games The London Organising Committee of the Olympic Games and Paralympic Games (LOCOG) has appointed Sainsbury's as its first Paralympic-only sponsor, becoming a Tier One Partner of the London 2012 Paralympic Games. This historic commitment to the Paralympic Movement is the largest sponsorship ever of a Paralympic Games. Sainsbury's will work with LOCOG between now and 2012 as it seeks to deliver "a spectacular sporting showcase" for the world's greatest Paralympic athletes. Sainsbury's will utilise its network of over 850 stores to help promote the Paralympic Games in the run up to 2012 and will make Paralympic Games and ParalympicsGB merchandise available across the UK. As part of its commitment to LOCOG, Sainsbury's will run a media campaign in 2012 to support the Paralympic Games and its colleagues will have the opportunity to be seconded to LOCOG.

Education

Limited branding is permitted on the field of play at the Paralympic Games and Sainsbury's will be one of two Partners to have a presence on athletes' bibs, as well as in and around key venues at Games-time.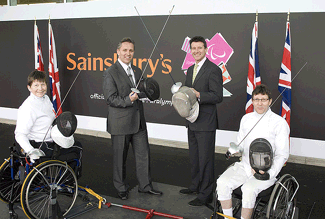 Sainsbury's will also be working with LOCOG's education team to develop opportunities related to its successful Active Kids programme as part of LOCOG's Education scheme, 'Get Set'. LOCOG Chairman Sebastian Coe commented: "The support for the Paralympic Games in the UK is incredible and I'm thrilled that we are now in a position to confirm our first stand-alone Paralympics sponsor. Sainsbury's will become a valued partner of the Paralympic Movement and will help us to promote the Games to the sport loving public of the UK. We take great pleasure in welcoming them to the London 2012 Paralympic family".

Exclusive

Justin King, Sainsbury's CEO said: "We are delighted to be the official sponsor of the 2012 London Paralympic Games. The vision on which the Paralympic Movement was founded complements Sainsbury's commitment to promote a healthy, fitter lifestyle across all ages and abilities. Together with our customers and colleagues, we look forward to supporting a successful 2012 Paralympic Games". Sir Philip Craven, President of the International Paralympic Committee (IPC) said: "The IPC is proud to see Sainsbury's as the first Paralympic Games-only sponsor for London 2012. With such a well-known company becoming an exclusive partner, this will set new promotional opportunities for the Paralympic Games and the Movement, leaving a powerful legacy in communities across the UK". LOCOG's agreement with Sainsbury's covers the London 2012 Paralympic Games only. Photograph: from left to right - Vivien Mills, a member of the Great Britain Paralympic Fencing Team, Justin King, CEO Sainsbury's, Lord Coe, Chairman of the London Organising Committee of the Olympic Games (LOCOG) and Paralympian fencer, Michael Parson make the annoncement at Sainsbury's Superstore in Walthamstow. Photo credit: Robin Mayes.

Related news

22.3.2010 Next appointed as Official Clothing and Homeware Supplier to London 2012
18.3.2010 Panasonic helps young people make the cut with London 2012 Cultural Olympiad
3.2.2010 John Lewis appointed by LOCOG as London 2012 Tier 3 provider
2.12.2009 Value of Olympics sponsorship questioned at Future Sponsorship conference
30.11.2009 GlaxoSmithKline announced as Tier 3 Sponsor as London 2012 anti-doping plans confirmed
19.11.2009 BMW becomes a Tier One Partner and exclusive automotive sponsor of the 2012 Games
21.10.2009 London 2012 announces Thomas Cook as Official Supporter
29.9.2009 Visa announced as Presenting Sponsor for Britain's Team 2012
28.9.2009 Olympics timekeeper Omega extends sponsorship through to 2020
11.8.2009 Standard Life sponsors British Basketball on its journey to London 2012
31.7.2009 Olympic Games Act puts off potential sponsors: survey
15.7.2009 Panasonic UK appoints brandRapport to leverage 2012 sponsorship
17.6.2009 LOCOG signs up The Nielsen Company as Official Market Research Services provider to London 2012
1.6.2009 LOCOG announces Holiday Inn as latest London 2012 Olympics sponsor
27.3.2009 Crystal becomes sixteenth London 2012 commercial sponsor
15.1.2009 London 2012 appoints Adecco as Tier Two Supporter, as Tier One Supporter Nortel files for bankruptcy protection
3.12.2008 Number 10 hosts inaugural meeting of London 2012's The Chairman's Club
21.10.2008 Cadbury becomes latest London 2012 Tier Two supporter
9.8.2008 Nortel announced as London 2012's Official Network Infrastructure Partner and seventh Tier One sponsor
9.7.2008 BP signs as latest Tier One Olympics partner
25.3.2008 Risk that 2012 Olympics sponsorship target "will not be achievable": NAO report
24.8.2007 New Tier 1 category added to London 2012 sponsorship programme
12.7.2007 EDF unveiled as London 2012 Tier One sponsor and sustainability partner
16.3.2007 Lloyds TSB becomes first domestic sponsorship partner of London 2012
5.2.2007 High profile airline and sportswear sponsorship categories launched for London 2012 Games

Useful linkLondon 2012

4th May, 2010
Robinsons squash serves an ace with new Wimbledon sponsorship contract Leading soft drinks company Britvic has announced that Robinsons, the UK's number one squash, will continue its long-standing association with the Wimbledon Championships for a further five years.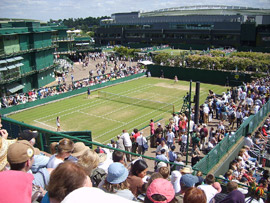 The new contract ensures Robinsons will remain the Official Still Soft Drinks Supplier to the Championships until at least 2015. Britvic chief executive Paul Moody and All England Lawn Tennis Club chief executive Ian Ritchie will announce the new contract at a gala dinner later today (Tuesday, 4th May). The event will be held at the All England Lawn Tennis Club to celebrate the seventy-fifth anniversary of Robinsons' relationship with the Wimbledon Championships, the worlds oldest tennis tournament. Paul Moody said: "Britvic is very proud that Robinsons will continue its long association with Wimbledon, in what is the second longest running sports sponsorship in the world. Wimbledon is part of Robinsons' heritage, as the Championships were the birthplace of Robinsons barley water. We look forward to embracing our continued support at Wimbledon and are proud of our achievements over the last seventy-five years."

Stars

Ian Ritchie, Chief Executive of the All England Lawn Tennis Club said: "We're delighted that Robinsons will remain the Official Still Soft Drink of the Championships, for the next five years at least. Robinsons Barley Water remains synonymous with Wimbledon – and it's great it will be there on the Umpires Chair again". The dinner will be attended by tennis stars past and present, including Robinsons brand ambassador and rising star Laura Robson, Annabel Croft, Andrew Castle and Jeremy Bates. Robinsons will once again broadcast its award winning Wimbledon television advertising, also with an on-pack promotion and a heavyweight PR campaign to celebrate the 75th anniversary.