OFD/PL003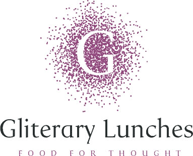 GLITERARY LUNCHES
Good food, good books and good company. Gliterary Lunches is a series of literary events for women. They are particularly popular with professional women entertaining female clients and also with women who simply want to enjoy a get-together with likeminded friends. Currently the lunches are held in Edinburgh, Glasgow, Aberdeen, Newcastle, Leeds and Manchester. Audiences range between 150 and 250. The events themselves comprise a champagne reception, followed by a gourmet two course lunch while two award winning authors talk about their writing and inspirations. The day wraps up with coffee, conversation, book signings and meeting the authors. Previous authors have included Kate Adie, Fay Weldon, Maggie O'Farrell, Val McDermid, Tony Parsons and Lionel Shriver, among others. Gliterary Lunches offer sponsors opportunities for raising their profile through branding and communication both in the promotion of and at the event. The company also offers data collection opportunities and is open to other ideas too. They are happy to talk about sponsoring a specific event. Contact: Mrs Sibh Megson. Address: 1A Leadhall Drive, Harrogate HG2 9NL. Tel.: 01423 873116. E-mail: sibh@gliterarylunches.com
link to website
Ongoing

OFD/PL006
NANTWICH FOOD & DRINK FESTIVAL
Each year, Nantwich Food & Drink Festival attracts an aggregate attendance of around 25,000 visitors. It has become a food and drink calendar classic, with visitors spending over £1 million in the town during a week-long programme of events. The Festival's strengths lie in its ability to stay true to the values of gourmet food and drink, combined with the provision of attractions to provide an entertaining family day out. The Festival has a highly successful website (www.nantwichfoodfestival.co.uk) and a range of attractive, quality bespoke collateral. There are various different motivations for becoming one of the Nantwich Food and Drink Festival's commercial partners. Sponsorship can add significant benefits to a company's existing communications: it can create a strong brand profile and can appeal to existing and potential customers and it can stimulate national, regional and local awareness for the sponsor's business. Updated information is available on request. Contact: Phil Riding, Special Projects Officer. Address: Municipal Buildings, Earle Street, Crewe CW1 2BJ. Tel.: 01270 537426. Fax: 01270 537758. E-mail: philip.riding@crewe-nantwich.gov.uk
link to website Opportunities (but please get in touch for updated information)

There are three ways to become associated with the gourmet food and drink festival, providing businesses with the opportunity to target ABC1 consumers aged 30 and above from within a fifty mile radius of Nantwich.

1. Entry Level - Friends of the Festival
2. Specific packages - dedicated areas of the Event can be sponsored
3. Bespoke packages - Bronze, Silver and Gold

1. FRIENDS OF THE FESTIVAL
For companies that wish to benefit from having their name associated with the gourmet food and drink event, a company logo will appear on all Festival collateral:

• Website
• Over 100,000 Festival brochures
• A1 Information Points
• 45,000 A4 programmes
• Name check on all press releases

2. FEATURE SPONSOR
Particular elements of the Festival may be strongly branded with a business's corporate identity. All feature sponsors will receive extensive publicity through collateral and press coverage. Features available to sponsors include:

• Gourmet Food Marquee
• Theatre of Themes
• CAMRA Beer Festival
• Wine Tasting Pavilion
• The Mill Island Wine and Real Ale Bar and Restaurant
• Countryside Comes to Town Rural Carnival

Specific packages of benefits will be developed and agreed in partnership with all sponsors but could include:

• One of the best premium exhibitor pitches on the Festival showground
• Pre-event tastings
• Event sampling
• Dedicated prize promotions in local, regional and national media
• Radio and internet coverage
• Distribution of Festival literature

For any level of sponsorship, there is also an opportunity to provide product for the official show bag, which is handed out to visitors to the Gourmet Food Marquee.

SCOPE
It is possible to mix and match sponsorship options. For instance a sponsor may wish to support the Theatre of Theme, contribute to the Show bag and run some pre-event tasings and prize promotions. Anything is possible!
Ongoing