Chelsea's shirt will continue to feature the Samsung logo. Samsung will benefit from extensive sponsorship rights, including access to Chelsea players for marketing purposes and exclusivity in all consumer electronic products, including digital cameras, mobile phones and IT equipment. Mr SH Shin, President and CEO of Samsung Electronics Europe, said: "Our partnership with Chelsea is already highly effective for both parties. It has raised our premium brand awareness, which has in turn helped significantly increase our sales and market share in key areas of our business – especially in the UK where our turnover has more than doubled in the last five years and we have become increasingly recognised as a premium brand".
Meaningful
"During the same period, Chelsea has enjoyed significant success on the pitch along with a 400% growth in their

global fan base and a doubling of their turnover. We believe the expanded partnership will assist both parties in working together to continue their global development". Chelsea FC Chief Executive Peter Kenyon commented: "Our relationship is far more meaningful than a conventional sports sponsorship arrangement. While this renewal represents excellent value for Chelsea it is more than that – it is a true partnership between two organisations who are both highly successful on the global stage and whose strengths and ambitions complement each other perfectly. "The renewal of our partnership is a significant step forward on the original deal, and we are pleased to deliver additional rights for Samsung to use in key areas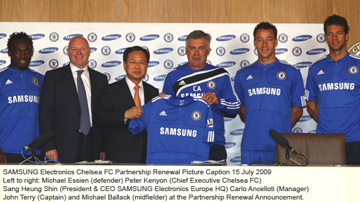 of their business. We very much welcome the continued partnership and anticipate mutual success from the deepening and broadening of our relationship". "More generally it reaffirms Chelsea's position in the business and sponsorship market as one of the market leaders in football and demonstrates that investment at this time is key to growth". Samsung says it believes the partnership with Chelsea FC to be a pioneering relationship that sets a new standard for sports sponsorships. As both companies are global market leaders in their respective industries, says Samsung, the partnership represents a mutually beneficial strategic alliance between two organisations who share many common characteristics – both are forward-thinking, innovative, successful domestically and on the international stage, and have experienced impressive levels of growth in recent years. Samsung is a TOP sponsor of the Olympic Games until 2016, while the partnership with Chelsea was named Best Sponsorship of a Sport Team in 2007 and Best Integrated Sport Marketing Campaign in 2008 at the prestigious Sports Industry Awards.