The straight knock-out format of the competition will remain unchanged, with the forty-two clubs from the top four Scottish divisions competing for The Co-operative Insurance Cup trophy, over six rounds.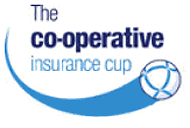 Commenting on the contract renewal, Dick Parkhouse, Managing Director, Retail for The Co-operative Financial Services said: "We are delighted to be renewing our sponsorship of The Co-operative Insurance Cup. "The Co-operative Insurance has supported The League Cup for the past ten seasons, and during that time we have become very familiar with a competition which is exciting, engaging and unpredictable. The Co-operative Insurance Cup receives tremendous exposure in the Scottish print media, is broadcast on TV and the internet with live ties and highlights, but most importantly of all, it commands a place in the hearts and minds of the fans, players, clubs and communities who are involved in it."

Commitment

"We are extremely grateful to member clubs of The Scottish Football League and Scottish Premier League who help with access to players which assists our efforts to generate coverage for the tournament. And of course, we are also tremendously appreciative for the generous support by the sports media for both the competition and our promotional activities." David Longmuir, Chief Executive of The Scottish Football League, acknowledged the commitment by The Co-operative Insurance towards Scottish football: "We are delighted to be announcing this contract renewal – it is great news for Scottish football in general and The Scottish Football League in particular.

"The Co-operative Insurance's dedication and commitment to the League Cup reflects the importance of football in Scotland's culture, its importance to the current and emerging generations, and its role at the heart of communities, towns and cities throughout Scotland." This season the title of the Scottish Football League Cup was changed from the CIS Insurance Cup to The Co-operative Insurance Cup, following the re-branding of the CIS to The Co-operative Insurance.

Coaching

All the companies that operate within The Co-operative Group are re-naming their businesses and adopting the same new look, to reflect consistency for The Co-operative brand and its values across all the products and services it offers. Alongside The Co-operative Insurance's sponsorship of The Co-operative Insurance Cup, it also has a grassroots programme which provides kits and equipment to junior teams throughout the UK. Since it began in 1999 it has provided kits to over 3,200 junior teams and coaching to over 16,000 children. Alex Salmond, Scotland's First Minister, who attended the announcement, commented:

"The League Cup is an important tournament in the Scottish football calendar and I welcome the news that The Co-operative Insurance is extending their sponsorship of this competition. "I am delighted that a household name such as The Co-operative Insurance is continuing to support sport in Scotland through this renewed deal and their grassroots programme which provides kits, equipment and coaching to junior football teams."