FTIR/PL001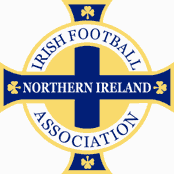 IRISH FOOTBALL ASSOCIATION
The Irish Football Association is one of the true giants of world football. A lofty claim perhaps but despite a population well below two million, despite only having just over 1,500 registered clubs and despite being able to draw from a pool of approximately 25,000 players (spread over less than 5,500 square miles), the influence the Association had - and still does have - on the game across the globe is immeasurable. Founded in Belfast in 1880, the Irish Football Association is the fourth oldest governing body in the world. The IFA is privileged to hold a seat on the International Football Association Board, alongside FIFA and the FAs of England, Scotland and Wales. The IFAB is a body which governs the laws of the game and enables the IFA, although a relatively small Association, to have a major influence on world football. The Irish FA has an exciting range of marketing initiatives available including online, print, pitchside boards, and sponsorship. The IFA can offer a high level of brand awareness and media exposure through these various initiatives. The IFA - Bringing Communities Together. Contacts: Geoff Wilson, IFA Head of Marketing and Communications; Caroline Menary, IFA Domestic Marketing Manager. Address: Irish FA, 20 Windsor Avenue, Belfast BT9 6EG. Tels.: 02890 688437 (switchboard); 02890 688437 (office). Fax: 02890 688434. E-mails: Geoff Wilson - gwilson@irishfa.com; Caroline Menary - cmenary@irishfa.com
link to website (Irish FA)
link to website (IFA Premiership)
link to website (IFA Championship)

Click button to download more information from the Irish FA (pdf format)
Current opportunities
•
Sponsorship
The IFA have a number of programmes or rights that can be sponsored at international, domestic or grassroots level. These include the Premiership and the international team. For costings, availability and benefits, contact the IFA for further information.
•
Online
Website: banner advertisements on the IFA's official website, which enjoys over 90,000 unique visitors on average per month.
Email: the IFA has approx 18,000 valid email addresses in its database that receive its regular official e-zine. Opportunities include articles, offers, competitions and corporate branding or adverts.
Text service: the IFA has 4,000 mobile numbers which can be used to market a corporate message.
•
Print
Match programme: adverts in the IFA's popular match programmes (international and domestic)
IFA Magazine: the magazine has a circulation of 12,000 and estimated readership of 36,000; the IFA's official magazine, Northern Ireland Football, has a range of advertising opportunities and positions. Inserts are also available.
Tickets: access to 14,000 ticket holders at each international home fixture, to promote a company message.
Leaflets at games: product focused flyers issued at the turnstiles at home international games (for fixtures see www.irishfa.com).
•
Away Corporate Travel Packages
Tailored or charter packages for business customers for a variety of away corporate days and events (contact the IFA for further information).
•
Boards
Boards at international fixtures: televised live on Sky Sports, these matches are potentially screened in six million homes and coupled with a highlights package on BBC NI, which offers Board sponsors significant exposure.
Boards at the Irish Cup Final: shown live on BBC NI, this key fixture also has a highlights package on UTV.
Ongoing

FTIR/PL002

footballcv.com LTD.
footballcv.com started life as a website for 'would be' young footballers who wanted a trial with a football club to show them their ability, but, having written dozens of letters to clubs, seldom got a reply. As the organisers all worked in the football industry, and during this period had made many good contacts, they decided to start a business they would enjoy, both through helping youngsters achieve their aims, and from working in an environment they enjoyed. As the business expanded they went a step further and started their own trials. Most recently they held trials at Leeds United FC, Charlton Athletic FC and Coventry City FC, dividing the players into age groups. In addition they sent invitations to all the managers and scouts of Premier League, Football League and non-League clubs for them to come along and view the players. They have held further trials at Northampton Town FC, Tranmere Rovers FC, Swindon Town FC, Gateshead International Stadium, Falkirk FC and many non-league grounds. There have been many 'success stories' from these trials - these can be viewed at www.footballcv.com, the organisation's website, which shows that there are up to 2,000 registered members, with the number increasing every year. Website trend for last 3 months • Average monthly visitors: 19,325 • Average daily visitors: 630 • Average monthly page views: 100,174 • Average daily page views: 3,266 • Average time per visit: 445 secs. Recent developments include working with Manchester United FC where footballcv.com will be running an exclusive Trials Day for 6-9 year olds for the Premiership club. Now they know that they have an idea that works they are looking for a Main Sponsor. They have a vested interest to ensure the programme works. The market is footballers from the age of six to those in their late twenties. With 1,700 members registered they would be able to send out mailings and introductory offers. There are also several thousand potential members who register their details on the website before completing their registration. For the Main Sponsor there would be a banner on all pages of the website with links to the sponsor company's website and of course they could promote the sponsor using their extensive database. The sponsor's name/logo would appear on all Trials Day programmes and other publicity material. They have just purchased an entire range of new kit. The sponsoring company could appear on all the players' shirts and on the kit worn by the staff on the day. footballcv.com point out that local radio and TV usually come along to the Trials. They have twice featured on SKY Sports, on GMTV, BBC Radio and TalkSport, as well as appearing in several publications such as Match magazine, 4-4-2 and The Non-League Newspaper. footballcv.com takes regular advertisements in the football magazines and the national and local press. If their proposal is of any interest they would be pleased to meet with any potential sponsor to discuss the possibilities. Contact: Graham Starmer, Director. Address: footballcv.com Ltd., c/o Kettering Town FC, Rockingham Road, Kettering NN16 9AW. Tel.: 0870 240 0523. Fax: 01536 412635. E-mail: graham@footballcv.com
link to website
Ongoing

FTIR/001
MASTERS FOOTBALL
Masters Football is the rights owner of the world's leading televised six-a-side indoor football brand. The Masters Cup events feature teams of ex-professional players from around the world, including recent legends of the game such as Gianfranco Zola, Paul Gascoigne and Ian Rush. Opportunities range from event title and team shirt sponsorship to perimeter board advertising and player/product endorsement, providing sponsors with the most flexible and cost-effective way to enter the global football market. Masters Football can offer innovative, tailor-made sponsorship packages for companies keen to build brand recognition in a highly targeted, relevant environment. Contact: Adam Benson, Sponsorship Manager. Address: Berkeley House, 18-24 High Street, London HA8 7RP. Tel.: 0208 952 9525. E-mail: adam@mastersfootball.com
link to website
Ongoing