13th June, 2016

Legend 88 project's racers could put their backers in sponsorship's hall of fame

The aim of the Legend 88 project is to show that it is possible to become competitive in motorsport without having years of experience or transporting a large team around with you. "My racing experience previous to this year consisted of occasional arrive-and-drive karting at Buckmore Park, a handful of stock-car races and radio controlled cars at my local circuit as a teenager.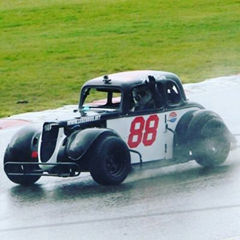 "The one constant over the last twenty years has been computer games, which I have seen evolve from pixelated cars being controlled using three or four buttons, to very realistic racing simulators with accurate vehicle dynamics and real-life circuits which are scanned to within 2mm. I have always taken simulators seriously and used them as a training tool for motor racing rather than entertainment. I firmly believe that the structured use of a well set-up racing simulator is a very effective way of learning new circuits and practicing race craft. "We have chosen the UK Legends Championship to make our debut as the cars are all very similar (as well as being very attractive and fast) - and the racing is some of the closest to be seen anywhere. It is often said that if you can drive a Legend you can drive anything. We have raced at the first two meetings of 2016 and have already had our fair share of bad luck. "A gearbox failure at the first round destroyed our engine, a propshaft failure during the second weekend severed the fuel line and badly damaged the gearshift system, and a brake problem in the final race of the same weekend saw me go straight on at a hairpin and into the barriers. "Despite all of our issues there are a lot of positives to be taken from these first outings. The pace we have shown already has raised a few eyebrows in the paddock and impressed some of the established front runners. By the end of the final at Pembrey in April (just before the brake issue and the mishap), I was running comfortably in eighth position, until the final lap. My lap times were 0.7 seconds away from the two leaders and matching everybody else. The two leaders were the current National and World Champion and a former Formula Ford driver. "This was only my eighth race and on a circuit that I'd never visited before, so to be as competitive as we were was a real boost. The problems that we have suffered so far this season have eaten into our already small budget and we have had to adjust our ambitions accordingly. "I still believe that we can be fighting for podiums by the end of this season and if the support and funding is behind us going into next season, we could be near the top of the Championship table in 2017. It is important to me that any support or investment given to our team is seen as good value to potential backers. "I realise that to have a sticker on a race car isn't necessarily very beneficial to a company, but there are many ways that the car and driver can be used as a marketing tool to gain publicity for all partners. I am open to discussions regarding this and am prepared to work to make this happen. Please visit our team website at www.legend88.net to get more of an idea about who we are and what we are trying to achieve. "Thank you for your time and please don't hesitate to get in touch if you are interested in our project".

Contact: Matt Allen More information ...
To find out about
banner advertising
on this site,
click here




To find out about
listing your sponsorship requirements,
click this button