Is it worth sponsoring a Formula One team?
- guest writer Mark Martin of moneysupermarket.com explores the issues and looks at key developments in sponsorship's fast lane ...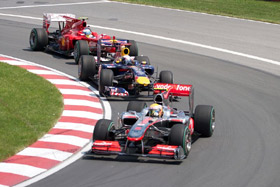 On the face of things Formula One seems to have been unaffected by the recent recession, with viewing figures up, more countries being visited and an increase in the number of competing teams from ten to twelve. Even past champions can still make money from their association to the sport, with Nigel Mansell appearing alongside Omid Djalili in the latest car insurance advertisement from Moneysupermarket. However, recent statistics from Formula Money suggest that sponsorship investment in the sport dropped by a staggering $115 million in 2009. So is the sport really that healthy? • The sport's image Although the recession is likely to be a major contributor to the drop in investment, the sport's image has also been badly hit over the past five years. There have been suggestions of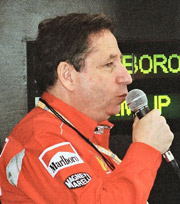 corruption at the highest levels of the sport, with many fans believing that its governing body (FIA) is biased in favour of Ferrari, and the FIA president himself (Max Mosley) also having managed to make unfavourable headlines. There have been convictions for race fixing, spying and lying to race stewards. On top of this, environmentalists have questioned the relevance of Formula One in a world where people are striving to limit unnecessary fuel usage. All of this may well have taken away some of the attraction the sport had to sponsors. However, Formula One has taken steps to rectify this image problem, with Max Mosley resigning and handing over his presidency to Jean Todt (left), who has made the teams agree to a resource restriction which limits spending, increases the teams' involvement in sporting decisions and also improves the transparency of the stewards' decision-making process so as to negate suggestions of Ferrari bias.

Hybrid

On top of this, Mr Todt is planning on introducing a number of measures to improve the sport's environmental image. First off he banned in-race refuelling for this season in an effort to make fuel economy more important during races. For 2011, the Kinetic Energy Recovery System (KERS) - which turns the heat from brakes into power for the engine - will be made mandatory. There are also plans to reduce the size of F1 engines from 2.8 litre to 1.6 litre and introduce a fuel flow regulator to reduce fuel usage for 2013. The aim of this is not only to reduce the amount of fuel that F1 cars use, but also to increase the relevance of F1 to the road car industry, so as to help in the development of hybrid technologies for road use. It is hoped that this will not only attract more sponsors through improving the sport's green credentials, but also attract car manufacturers by allowing them to use F1 as a testing place for ground-breaking green technologies which they can incorporate into their customer car fleet in the coming years. This appears to already be working already, with both Porsche and Honda stating that they are interested in the new regulations coming into F1: both are believed to be evaluating a return to the sport in 2013 in time for the new engine regulations. • Changes in the sponsorship world However, the sport's image is not the only issue. Virgin Racing's marketing director, Jim Wright, recently explained that the nature of what is considered to be effective sponsorship is changing and that F1 is now considered to be much more of a business-to-business contact ground. This was corroborated by the purchase of the Renault team by investment group Genii Capital, who are aiming to improve the range of companies with which they do business by making new contacts through F1. This has already allowed Genii Capital to make a number of connections in the potentially lucrative Russian market through Russian companies being interested in endorsing the team's second driver, the Russian Vitaly Petrov. However, this isn't the only key change in the sponsorship world to have happened over the past couple of years. Marketing academic Terence Shimp believes that it is no longer sufficient to simply place a logo on the side of a car, as marketing messages now have to be much more integrated in order for a company to get any benefit from them in an increasingly crowded sponsorship market. This means that the entity with which the sponsor becomes associated has to in some way support the brand persona the company wishes to exhibit. This is why it worked out so well for Virgin to sponsor the Brawn team in 2009 and to switch allegiance for 2010 when the Brawn team became Mercedes GP. At the end of 2008, the Brawn team had been sold by Honda and were on the brink of collapse. At the last minute, team principal Ross Brawn created a rescue package using his own money and slapped a Mercedes engine in the back of a car which had already been designed to accommodate a Honda. Expectations were therefore low and the team were the underdogs fighting against better prepared and better funded rivals such as McLaren, Ferrari and Toyota. This perfectly matched the brand image which Branson has strived to create. The prospect of backing a heavily funded Mercedes team who were coming into 2010 on the back of having dominated 2009 in the form of Brawn GP, with the seven times world champion Michael Schumacher at the wheel simply didn't match the require image.

Alignment

Virgin therefore decided to support the brand-new-for-2010 Manor GP team and rebrand the team as Virgin Racing. This would also be the only team in F1 to design their car entirely using computers, rather than using the more expensive wind tunnels used by all the other teams. The strategy was deemed risky and impossible to pull off by many of the sport's established technicians, making them the underdogs again. Although the team probably haven't achieved half as much TV exposure as they would have by appearing on the side of Michael Schumacher's car, that doesn't seem to have mattered, as it would have "polluted" the Virgin brand's "underdog" image. This need for there to be an alignment of images between the sponsored team and the sponsor has led a number of sponsors involved in F1 to pursue the same approach as Virgin and purchase their own teams, thereby ensuring that they create the desired image. Thus Red Bull, Kingfisher, Mercedes and Air Asia all split from the teams with which they were previously associated in order to ensure a better correlation of image. Porsche confirmed this recently at the Paris Motor Show, when they stated that if they do enter F1 in 2013 they will do so with their own team, because of their requirement to control all aspects of the team, including its image. This trend would explain some of the drop in sponsorship investment into the sport, as sponsors are simply purchasing their own teams, forcing a number of other sponsors out. Before it became Red Bull Racing, the team was owned by Jaguar and was endorsed by HSBC and Jaguar itself. But what is the benefit for either of these professional companies in being associated with an image of striving for excitement and adventure - inherent in the Red Bull brand? This really isn't the image HSBC would like to be associated with following the financial crisis; and Jaguar owners are unlikely to be the adventurous type. • The future With the image of Formula One now improving, the sport is obviously becoming attractive to more sponsoring companies. However, the changing sponsorship strategies of companies who are looking to find a unique association, rather than simply joining a crowded market place, means that it is simply impossible for it to maintain the levels of sponsorship investment it has achieved in the past. F1 therefore needs to avert disaster by making it much more affordable for these companies to run their own teams, so that they don't all drop out should there be another financial crisis. Interestingly, steps are already being taken in this area by Bernie Ecclestone and Jean Todt, the teams being granted a much bigger share of television revenue and signing up to a resource restriction agreement to make sure that not as much money is needed in order to run a competitive racing team. This strategy is beginning to pay off - and some are even prophesising that F1 could soon become one of the most cost-effective sponsorship opportunities available.

Note: the views expressed above are those of the author and do not necessarily reflect those of uksponsorship.com Ltd.