How important is nationality in determining sponsorship success?- guest writer Mark Martin of moneysupermarket.com explores the issue with intriguing insights into life in sponsorship's fast lane ...

What ingredients are needed to create successful sponsorship? That's the question which has been bugging marketing professionals for years - and most companies would give a different answer. The importance of the integration of communications is not in dispute: for instance, it would make no sense for a company to show a preoccupation with price cutting in a television advertisement and then preach about the importance of high quality in a poster campaign. However, what is in dispute is whether or not the nationality of the sponsored entity should be factored into this integration argument. Many marketing academics who advocate integration claim that a company should only sponsor an entity which has a similar ethos or culture to itself. But how true is this? In order to find out the answer we have turned our attention to the very international Formula One motor racing series. • National importance A prime example of a company that believes that integrated communications and nationality are intrinsically linked is the cigarette company Benson and Hedges (B&H). B&H is a very British brand and therefore sought to affiliate itself with British sporting events and teams prior to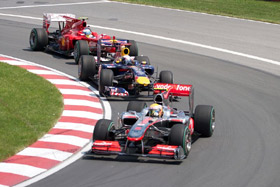 the ban on tobacco advertising. This led to its long-running sponsorship of the Masters Snooker Tournament, as well as the deal to sponsor Eddie Jordan's Jordan Grand Prix team for nine seasons between 1996 and 2004. Jordan Grand Prix were based in Northampton and had experienced some limited success prior to the B&H alliance. However it was not enough for B&H that the team happened to be British, as the cigarette firm constantly pressured Jordan to hire a British driver throughout their partnership. This became obvious following the retirement of Jordan's number two driver Martin Brundle at the end of 1996 at which point B&H attempted to lure the 1992 world champion Nigel Mansell out of retirement (before he changed profession by becoming the face of moneysupermarket car insurance commercials). This would have required a substantial financial investment - which B&H were indeed willing to provide. However, Mansell ultimately decided that the car was not competitive enough and the B&H money was instead offered to 1996 world champion Damon Hill prior to the 1998 season. Hill was replaced in the team following his retirement at the end of 1999 by the Italian Jarno Trulli, much to the displeasure of B&H. This ultimately led to B&H withdrawing their title sponsorship from the team prior to the 2002 season when Jordan replaced the departing Trulli with Japanese rookie Takuma Sato, rather than a British driver. The lost backing hit Jordan hard and the team was ultimately forced to replace Sato with Irish rookie Ralph Firman for 2003, in order to ensure its survival by regaining B&H backing. • Nationality no object Malaysian oil company Petronas decided to sponsor the Mercedes GP team for the 2010 season for the chance to be associated with Michael Schumacher's F1 return. The company believed that the publicity that Schumacher's comeback would generate would be a massive boost for the company given that all pictures of Schumacher on television, in papers and on websites would feature Petronas logos. However, the company faced substantial criticism from Malaysian politicians who were angry that Petronas had decided to sponsor the German operation as opposed to Tony Fernandes's 1Malaysia F1 team, which ran under the banner of Lotus Racing. Fernandes did everything he could to make his team the one that would be supported by Malaysian fans during the Malaysian Grand Prix weekend, even giving practice time to young Malaysian driver Fairuz Fauzy. However, it was obvious from looking at fans in the grandstands that more Malaysian fans were wearing Mercedes GP t-shirts rather than Lotus Racing ones. Given that Petronas was aiming to raise its profile, it appeared that it had made the right choice. • So is nationality important in sponsorship? It therefore appears that nationality does not always have to be a consideration in integration, as proven by the Petronas/Mercedes GP example. Richard Branson's Virgin Group also endorses this viewpoint, as Branson has managed to lend the Virgin name to the Australian budget airline Virgin Blue without harming its brand image. In fact the association has only helped to endorse Virgin's primary area of differentiation, in that it is the perennial underdog. However, it is unlikely that B&H would have been successful if it had done as Petronas had done. Unlike Petronas, B&H's primary point of differentiation over other cigarette brands is its British image and associating itself with Michael Schumacher would likely have done this image more harm than good. It appears that as with most things in the sponsorship world, what works well for one company might not necessarily be a benefit for another. It is therefore logical to conclude that the nationality of the sponsored entity only becomes important when the nationality of your firm is a key area of differentiation.

Note: the views expressed above are those of the author and do not necessarily reflect those of uksponsorship.com Ltd.