3rd January, 2017
Sponsorship support for the Virtual Doctors would be just the right prescription to help expand their telemedicine service
The Virtual Doctors is a charity which provides a free telemedicine service, utilising mobile phone and internet technology, for Clinical Officers located in rural and remote areas of Zambia.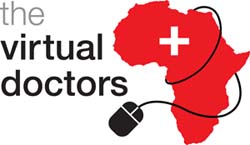 "Our hand-held devices offer remote connection with our volunteer medical professionals in the UK, using our bespoke telemedicine software. The Clinical Officers upload case files, select an area of specialism in a dropdown bar, which the selected UK medical professional can review, and subsequently respond offering diagnostic advice. Clinical Officers are trained professionals but are not as qualified as doctors. "Some clinics have huge catchment areas and people must travel long distances to reach them, only to be referred on to a hospital even further away. Our service is helping the Clinical Officers to learn and have the confidence to treat patients on site locally rather than having to refer to distant hospitals. "The service is economically scalable, tried and tested. We have expansion plans to expand our reach beyond the current twenty health clinics and two hospitals in Zambia - our goal is to be delivering the service into 100 sites in rural Zambia and we will have introduced a trial into another sub-Saharan country by the end of 2018. "We rely upon the generosity of others for 100% of our funding and your support would enable us to expand our reach into new areas and help more patients. We are keen to hear from individuals and organisations who would be interested in helping us to fund this expansion. It costs approximately £1,000 to set up and run the service for twelve months in each rural health centre. "If you or your company would like to get involved, please contact rosbird@virtualdoctors.org".

Contact: Huw Jones More information ...