21st December, 2016
Hull LGBT Community Pride parades a wide range of opportunities to gain major local, national and international media coverage
2017 is an exciting year for Hull LGBT Community Pride.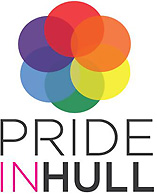 "Not only is Hull the UK City of Culture for 2017, we are also hosting the first annual UK Pride as part of a national network of over a hundred regional Prides. "It is also fifty years since the decriminalisation of being gay. It will be a massive celebration, encompassing a whole week which will garner much local, national and international media coverage. "We believe we can work together for a mutually beneficial partnership. This is a fantastic opportunity for you to be involved with the largest LGBT+ celebration in 2017. A list of the main events follows, but we will be running events throughout the week. • Pride Parade: up to 105 individual UK Prides will be marching along with organisations such as the Police (every force to be represented) and the Fire Brigade. This year will see the parade undertake the longest route in its history. • Main Pride Event: the main Pride event will this year be held for the first time at Queens Gardens, a ten acre site right in the middle of Hull city centre. "There will be the main stage, with live entertainment featuring music from the last fifty years, together with a VIP site for corporate sponsors and stalls for organisations that provide support for the LGBT+ community. "This will be a family event, so everybody can get involved with individual stalls and attractions. We are even going to have a symphony orchestra perform a specially arranged LGBT+ musical timeline in an evening concert, with special guests making an appearance. "2017 is a big year for us and we welcome you to get involved. "We are looking for sponsorship for a very wide range of events, so we would appreciate your taking the time to click on the "More information" link below, then click the download button in our listing and read the attached booklet. If you have any questions, don't hesitate to contact me".

Contact: Danielle Oliver, Trustee More information ...