3rd September, 2016
Spotlight on highly talented Max Brophy, 11 year old actor who needs sponsors to play their part in helping him fulfil his potential
At 5, Max Brophy was the youngest small boy ever to be cast in Billy Elliot in London's Victoria Palace Theatre.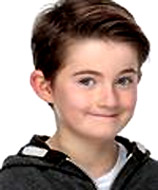 "My son Max is now 11. He has been involved in voice-overs, commercials etc. He starred as Rupert in Omid Djalali's Little Cracker, he played Tom Culkin in an episode of Doctors and he was a supporting artist in two episodes of Eastenders (one of which was the live torch episode). "Last year he was part of the ensemble cast for Goodnight Mr Tom at The Duke of York Theatre in Leicester Square. He has a small part in his first Hollywood film due to be released in the USA and UK in 2017. He is now in rehearsals for the male principal role of Bruce in Matilda at The Cambridge Theatre. "This year he applied to Sylvia Young Theatre School for a scholarship. He beat off approximately ninety children to make it through to the final eight. Although he did not win the scholarship, Sylvia has encouraged him to apply again next year. Sylvia said that he definitely warrants a place in her school and is very talented. She did not offer him a bursary there as we could not afford it but did offer him a free place in her summer school which we had to turn down as he was in rehearsals for Matilda. "He has been taught by Keith Jack (runner-up to Lea Mead in Andrew Lloyd Webber's Anything Will Do). Acting has been taught by Daniel Brocklebank (currently playing Billy, the vicar, in Coronation Street) and also by Raff Deguttola, who is an award winning writer, actor, director and producer. "He has achieved LAMDA exams up to grade 3 in Acting and grade 2 in Musical Theatre. He has achieved his grade 4 ABRSM (Royal College of Music) and Grade 1 Piano (all with distinctions and merits). He is currently training for his Grade 5 ABRSM Music Exam. "I am looking for sponsorship of £100,000 to support his performing arts training at Sylvia Young Theatre School from year 7 up to and including Year 11. The fees from Year 7 to Year 9 are £4K per term and in Years 10 and 11 they are £4,500 per term and may increase in the future. "He is extremely talented and he was bullied in his primary school, culminating in his being tied to a gate with a skipping rope and left screaming for help. The trauma of being bullied manifested itself and affected his academic work. He referred to himself as stupid and thick. He was displaying nine out of the ten signs of bullying. I complained to the school governing body and they dismissed my complaints. "I moved him in the last term of year 5. Music is his medicine; dance allows him to express himself; and acting allows him to create characters that come alive. Performing arts is what saved him and he is completely dedicated to it".

Contact: Carol Brophy More information ...