9th March, 2016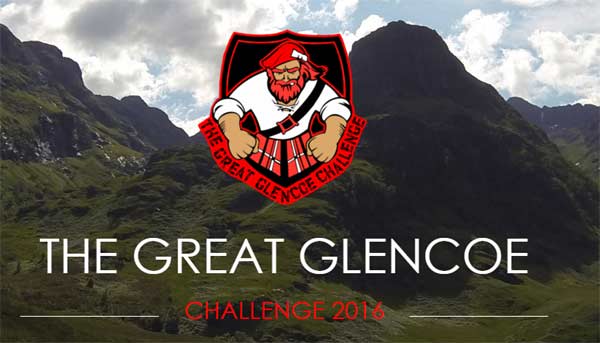 Support for up-and-coming Trekathon, The Great Glencoe Challenge, can really put caring sponsors on the map

The Great Glencoe Challenge is a 26.2 mile Trekathon organised by Ptarmigan Events which challenges participants to complete 26.2 miles through some of the most dramatic landscape that Scotland has to offer, from the heart of Glencoe to the foot of Ben Nevis and over 4,500ft of ascent in under twelve hours. If that's not tough enough, then participants also have the option to add on Ben Nevis! The challenge, which was launched in 2015, has already attracted over 450 participants, with just over six months until this year's event date. Not only that, it is attracting people from all over the UK and even Germany and Australia. With the option to self-fund or fundraise for their chosen charity, the event will raise funds for over thirty different charities, including Parkinson's UK, Maggie's, JDRF, Sight Action, Diabetes UK, Different Strokes, Marie Curie, Yorkhill and Motor Neurone Disease, to name a few. "This Challenge has grown at a fantastic rate since its inaugural launch in 2015 and the current registration rate indicates that it will continue to do so. "We are now seeking sponsorship from sponsors large or small which will assist us with catering, goody bag prizes, celebrations post event and /or any donations of products and materials which will help to lower our overheads and enhance the experience of participants and volunteers on the day. "This is an opportunity to sponsor Scotland's toughest Trekathon and be part of a new and exciting up-and-coming event from the beginning!"

Contact: Andrea Armstrong More information ...