4th February, 2016
Top billing available for sponsors of Damian Appleby's darkly funny political musical, Running Mate

Running Mate is a darkly funny chamber musical about political manipulation, deceit and betrayal. There are eleven songs, including the climate change song, Melt Down, which can be heard here: https://soundcloud.com/damiandarkness/melt-down-allrights-damian-appleby.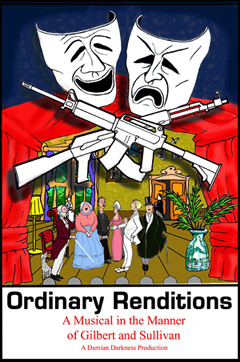 Mostly blues and ballads, these are all original works. "My ambition is to stage this musical in Brighton and I'm currently seeking sponsors to raise £10,000. "Rewards would include songs, the opportunity to meet the cast and director to discuss the project, the sponsor's name in all promotional literature, posters, etc.. And even a part in the show! "Contact me, Damian Appleby, by email on d.darkness495@outlook.com or mobile 07765 087253".

Contact: Damian Appleby More information ...
To find out about
banner advertising
on this site,
click here




To find out about
listing your sponsorship requirements,
click this button