18th January, 2016
Nina Kristofferson's sell-out musical play, the Billie Holiday Story, should be a huge hit with sponsors
Described by The Times as 'hypnotizing, captivating, electrifying', actress, singer and writer Nina Kristofferson is bringing her very special show, the Billie Holiday Story, which attracted critical and public acclaim, to a theatre near you after its sell-out run in London's West End and its 2014 Tour.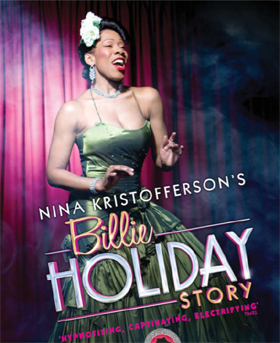 This musical play is a brilliant cocktail of songs and stories from Billie Holiday's life, stirring the haunting memories that plagued her, featuring her greatest hits, God Bless The Child, Lover Man, Strange Fruit, Don't Explain, All of Me and many more, accompanied by an outstanding live jazz band. "The story embraces Billie at her best and at her worst, giving you an understanding of what she had to endure to survive to become the legend that she is today. Her story is timeless and echoes so many artistes in general who embrace the jazz, pop, screen, theatre and rock world. "Billie Holiday, the unforgettable Lady Day! The demographic profile of the audience for the show ranges from 15 years and upwards. Our sponsorship packages are tailored to the individual needs of our sponsors, enabling you to achieve the maximum exposure and awareness of your brand, product, service or business. "There is no sponsor or donation too big or small for us to accommodate. Each company will receive a range of tailored benefits that are exclusive to each partnership and are consistent with their level of support. These can include clients having dinner with the cast after the performance, voice-coaching/band sessions and backstage tours. So please get in touch, even if you would just like to run an idea past us, by emailing: sponsorship2day@gmail.com. "For more information on the show, click the link to our website in our listing, via the More information link below".

Contact: Elizabeth Davies, Sponsorship Administrator More information ...
To find out about
banner advertising
on this site,
click here




To find out about
listing your sponsorship requirements,
click this button