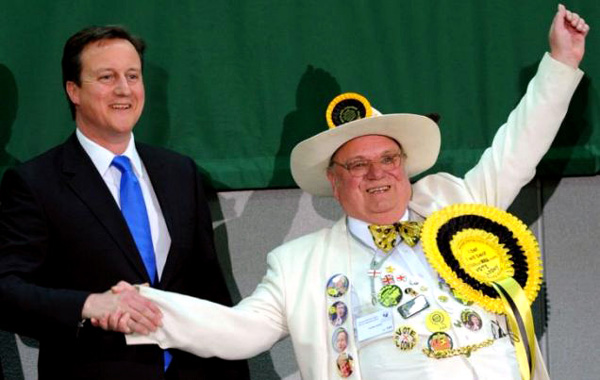 6th January, 2015

OpporLoonity to go "Monster!" - sponsor The Official Monster Raving Loony Party

The Official Monster Raving Loony Party is seeking financial support to nominate as many candidates as possible in the upcoming General Election in May 2015. "A sponsorship liaison with the Loony Party could be the platform for a simple exposure campaign; for example, on our rosettes, website and in news interviews, or more imaginatively as a comedy foil highlighting the particular qualities of a product or organisation.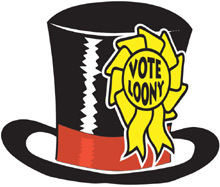 "On a smaller scale, a sponsor could support a sole candidate in their campaign constituency. The grey backdrop of a parliamentary election is the perfect opportunity for a colourful Loony event. "The Loony Party is a long-standing, vibrant British fixture, bringing iridescence to the election theatre. The cameras always find us, although we're very shy! "The Loony Party's origins date to 1963 when Screaming Lord Sutch stood for parliament in Stratford-upon-Avon. He stood in several elections during the '60s and '70s, forming the Loony Party with Howling Laud in 1982. We have stood in twenty-one parliamentary by-elections since Howling Laud became leader in 1999, and had twenty-eight candidates standing across England and Wales in the last General Election of 2010. "We field eccentric characters as candidates in both parliamentary by-elections and General Elections. In 2014 we participated in four by-elections, represented by Captain Chaplington-Smythe in Manchester, Nick the Flying Brick in Newark, Howling Laud in Clacton-on-Sea and Hairy Knorm in Rochester. "In 2014, our leader Howling Laud Hope was interviewed twice, live in the studio on the Daily Politics show. His distinctive profile has been photographed and appeared in The Times, Telegraph, Independent, many tabloids and the New Statesman. Over a hundred articles about the Loony Party appeared in newspapers and magazines during 2014. "Our website had 150,000 daily hits during the week of the 2010 General Election and we look forward to exceeding this in 2015. "William Hill supported us in the last two General Elections. In the 2010 General Election Howling Laud was pictured on a page spread in the Daily Telegraph, raising hands with David Cameron, while wearing a huge 'I bet I can beat William Hill' rosette.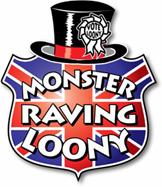 "The Loony Party have marketed a range of beers in 2013/14, in partnership with several breweries. The beers are called 'Co-ALE-ition' and over 50,000 pints have been sold across the UK - our IPA, 'Insanity Prevents Austerity', is the most popular. "Our strapline is 'Vote for insanity - you know it makes sense', and we are playfully referred to, in the media, as an alternative option to the Establishment. "We are in the nation's psyche, and the British population have an instinctive and unique affection for us. We have a rare doorstep connection and appeal variously to the young, the old and the open-minded. "Sponsorship of the Loony Party will bring you national press and TV exposure with an enthusiastic, fun, and distinctive partner. Please contact the Party Treasurer for further information".

Contact: Nick Delves
To find out about
banner advertising
on this site,
click here




To find out about
listing your sponsorship requirements,
click this button