19th December, 2014

Rhythms of the World community festival will drum up unbeatable opportunities for its sponsors

Rhythms of the World is a community festival which competes with the big boys!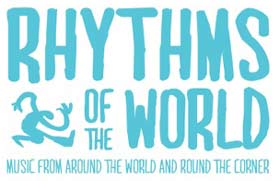 "Voted one of Songlines Magazine's Top Ten UK Summer Festivals in 2012 - alongside the likes of the Womad and Latitude festivals - we offer 125 musical acts from 'around the World and round the corner', across six stages. "We also provide a host of other entertainment: a Family Area, a Community Arts arena, including our Street Art Wall and a chill out Garden. "Up to 30,000 people visit Rhythms of the World from across the region each year. It's located right in the heart of the beautiful market town of Hitchin in Hertfordshire - just twenty-eight minutes by train from London. Whilst it's a great place to discover music you've never heard before, you can also see a host of household names. "Past performers include rock legends The Damned, jazz impresario Courtney Pine, Mercury Prize Winner Speech Debelle and 2015 Brits Critics' Choice winner James Bay. "We offer a host of sponsorship and advertising packages, starting from just £400.00 plus VAT. As well as event sponsorship, we have opportunities to sponsor a stage, the wristbands, lanyards or crew T shirts. Product sampling is also available. "As Rhythms of the World is a registered charity, by sponsoring our event, you'll also be meeting your company's corporate social responsibility objectives. "You could even get your staff involved in some of our many corporate volunteering opportunities".

Contact: Cath Cole, Head of Sponsorship.
To find out about
banner advertising
on this site,
click here




To find out about
listing your sponsorship requirements,
click this button